The introduction of Gamblers Anonymous in the Philippines started with a small group of individuals who have experienced the devastating effects of gambling addiction. These individuals have learned about GA through international connections, literature, and online resources. In the absence of a fellowship purely for gambling, most of the gambling addicts joined the meetings of Alcoholics Anonymous and Narcotics Anonymous that are also practicing the Twelve Steps and Twelve Traditions which were existing already in the Philippines.
These recovering gambling addicts took the initiative to form a GA group in their community. They started by organizing informal meetings or gatherings to discuss the challenges they face and to offer support to one another. Word-of-mouth plays a significant role in the growth of GA fellowships. Members share their experiences with others who are struggling with gambling addiction, inviting them to attend meetings.
As the number of attendees grew, the group decided to establish regular meetings with a consistent schedule. These meetings followed the format and principles outlined by GA, including the Twelve Steps and Twelve Traditions.
Members reached out to the Gamblers Anonymous International Service Office for guidance and resources. This helped ensure that the fellowship in the Philippines aligns with the core principles of GA.
By the year 2011, there were two meetings registered in the Gamblers Anonymous International Service Office website, namely the Machiato Group and the Baywalk Buddies Group. The Machiato Group held their meeting every Friday at Bo's Coffee Shop in Glorietta 5 Ayala Center in Makati while the Baywalk Buddies Group held their meetings every Sunday at Aloha Hotel in Manila.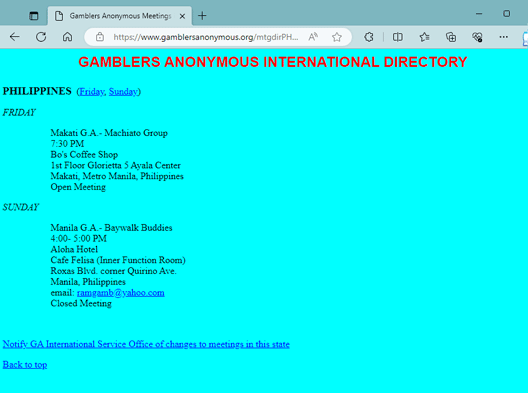 Over time, these groups went with different paths. The Baywalk Buddies was eventually dissolved but the Machiato Group evolved into the Bets Off Home Group. The Bets Off Home Group started their meeting on February 9, 2019 at UCC Cafe Terrace in Bonifacio Global City in Taguig.
By January 2020, the group's website (www.gaphilippines.org) and FaceBook group page (facebook.com/groups/betsoff) were launched.

March 2020, COVID hit the world and the rest is history. Most, if not all Recovery Fellowships found another platform in Zoom to continue with their meetings. Our schedule was 6:30 pm Manila Time via Zoom. 
The group went back to the traditional face to face meeting when the government eased up restrictions. Todate, 4 new home groups were established namely (1) Winner's Circle in Baguio City, (2) Subok na To in Alabang, Muntinlupa, (3) Kabalikat Home Group in Quezon City and (4) All In Home Group in Nueva Ecija to accommodate more members in their respective areas.
These GA groups incorporate local and cultural elements into their meetings and activities to make the program more relatable and accessible to participants. Recognizing that addiction affects not only the individual but also their families, some GA members suggest to family members/co-dependents support groups that they can join.
On February 25 and 26, 2023, GA Philippines Fellowship hosted the very first Recovering Gamblers Unity Day event. It's a day dedicated to commemorating the unity, strength, and collective effort of individuals in recovery from gambling addiction. The Unity Day serves several important purposes within the GA community like fellowship and togetherness, progress, raising awareness, honoring milestones, shares of hope and inspiration, strenthening of bonds and reaffirmation of commitment to recovery. There were 89 attendees in this event.